We promised you an announcement and by golly it's a doozy. After months of gruelling work we're super pleased to reveal that TypeIt4Me Touch 2.0 for iOS is finally available to download from the iTunes App Store. A nifty mobile companion to our flagship Mac product, we've rebuilt it from scratch to achieve better performance and integrated some very useful new features. This sprightly new incarnation of our text expander app – formerly known as TapIt4Me – is a free upgrade for everyone who bought version 1.0. Better still, we're offering it as a universal app optimised for iPhone, iPod Touch and iPad at no extra cost.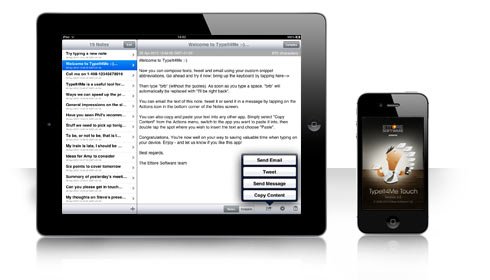 For the uninitiated, TypeIt4Me Touch 2.0 is a text expansion app that enables you to speed up typing on your iDevice. It lets you use your own custom-defined shorthand abbreviations that will expand on the fly to longer words, phrases and snippets of boilerplate text as you continue typing. Swiftly compose a note with TypeIt4Me Touch and you can email, tweet or message it to someone directly from within the app. You can also save it for later or copy it to the clipboard to quickly paste into another app.
TypeIt4Me Touch is priced at a very reasonable $4.99 / £2.99 / 3.99€, so it's not going to break the bank. Optimised for iOS 5.x and designed to play nicely with TypeIt4Me for Mac and OS X 10.7 Lion, it comes with some brand spanking new features, including:
…
iCloud support: use your TypeIt4Me abbreviations seamlessly across all your iDevices. iCloud support will be extended to the Mac version very soon, too.
Auto-suggestion: if you switch this on in the app's settings, TypeIt4Me Touch will display suggested words and snippets above the keyboard that match the letters you're typing. Tap on these and you can really speed things along.
A point-and-tap snippets menu: if you forget what abbreviation you assigned to a particular snippet while you're composing a note, just press a button for a handy drop-down that lists all the snippets in your active set, scroll through it and tap on the one you want to insert into the note. Bam! There it is. (Due to screen size limitations, this is an iPad-only feature.)
Now that we've got the sales patter out of the way, please do head over to the App Store and check TypeIt4Me Touch out. We're confident you'll either love it, loathe it or have mixed feelings about the time-saving opportunities it opens up for you. For our part, we're pretty stoked about it.
Well, that was the big news for today. It's time for us to get back to work on the Mac version, but before we wrap this up, we'd just like to extend our grateful thanks and appreciation to the small army of dedicated volunteer beta testers who so dilligently found ways to break this app while it was in development. Their heroic efforts have helped us make TypeIt4Me Touch 2.0 a stronger, more robust animal. We hope it will make your life just that little bit easier. Enjoy.