O hai! You may have wondered just what we've been up to for the past few months. Well, we're back and we have news. In between stockpiling barrels of dried pasta and sitting incredulously in front of the telly watching the BBC Parliament channel we've been busy tinkering with a new software title. As we brace for the fast approaching dawn of a brave new era that will definitely not be like Mad Max, it brings us great relief to be able to unveil our latest offering for Mac users: sonorOS.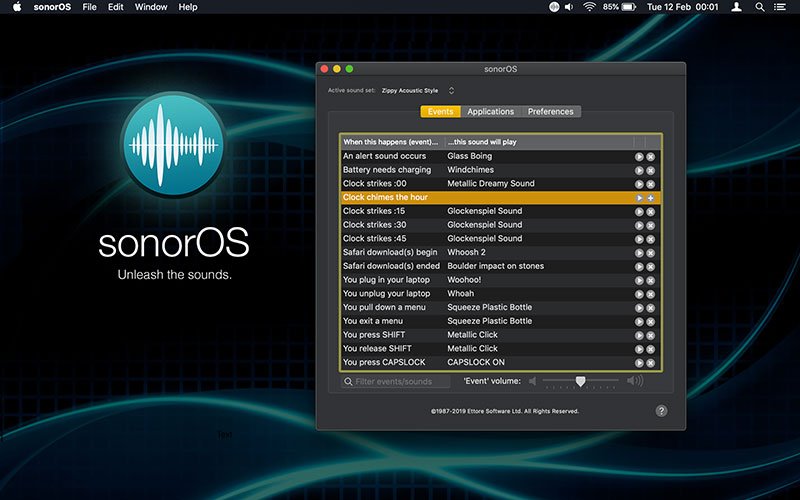 So what does it do? sonorOS is an app for customising the sounds your Mac makes when you interact with the operating system. You can load up your own sound files to play when various common macOS events occur. If you want a special warning alarm to sound when your MacBook's battery level drops below 10%, sonorOS can do that for you. If you'd like your Mac to chime on the hour, sonorOS will happily oblige – just feed it your favourite cuckoo clock MP3 files and you're all set. The 36 available events range from pressing CAPSLOCK to clicking the mouse, to dragging windows, to opening menus and launching apps. You can even simulate the experience of your Mac chatting to you out of boredom like a sassy HAL 9000: simply drag a folder full of pithy soundbites and pre-recorded bons mots onto the "Your Mac is idle" event and your computer will blurt out a random zinger every few minutes when not much is happening. Alternatively, if that's a little OTT for you, you could just opt for the sound of crickets chirping. Or stick with silence. It's entirely up to you.
…Hold on a minute, though. This all sounds strangely familiar, doesn't it? It's OK, you're not experiencing a bout of déjà vu. You know how Doctor Who's beloved immortal Time Lord sometimes regenerates at the end of a series, transforming into someone with the same memories, a different regional accent and a fresh face, ready for the next cycle of adventures? It's a similar story here. Building on foundations first laid down way back in 1987 with the creation of iBeep2, sonorOS is effectively a reincarnation of our vintage Sounds4Fun app. That title was previously available for older, 32-bit systems but support for it eventually fell away as newer OS X iterations evolved and Apple upgraded the hardware to run them. Many of you have been sending us impassioned pleas for a renovated update, so we have at last heeded the call and sonorOS is our answer. 
While it's not a like-for-like replacement of Sounds4Fun, sonorOS shares the same DNA and offers broadly similar functionality, albeit pared down and streamlined for the security-first Tim Cook age. sonorOS is a fully sandboxed, 64-bit app for macOS Mojave 10.14 and up: you can use it safely in the knowledge that it will never develop a mind of its own and take over your computer to wreak havoc. Of course, that does also mean that some of the old Sounds4Fun events – like typing – are not available in sonorOS. To make up for it we've added some new ones, slashed the price in half and given the app a slick chassis that supports Mojave's Dark Mode. Can't say fairer than that, can we? sonorOS is available now for just USD $7.99. The full list of all 36 system events it supports can be found on the product page. Have at it and let us know what you think.